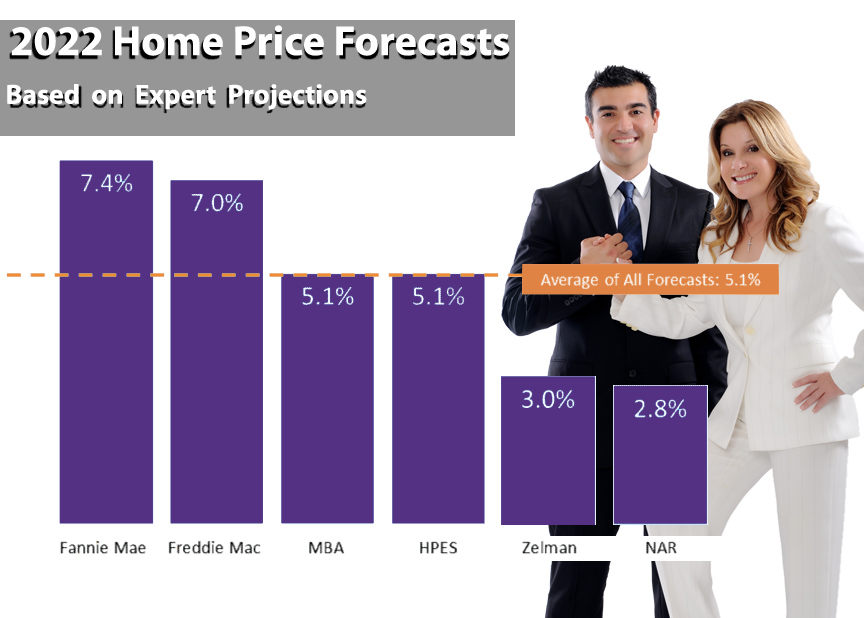 WHAT WILL HAPPEN WITH THE MARKET IN 2022 – Home Price Forecasts
The 2022 real estate market is one of the most talked about things right now.  We're clearly in a market where home prices are at record levels.  Because home values are so high  many are wondering how long this booming market could last.  We don't have a magic crystal ball that we can pull out to help us, however we can get the opinions of economists and industry experts to give us an idea of what's to come.
In our opinion, it's very difficult to see a massive drop in home prices, especially locally in our Southern California market.  There are still too many buyers for the amount of homes out there for sale.   Recently we went on a listing appointment in Huntington Beach and while going over Active and Pending inventory with the seller, we quickly found out that there were NO ACTIVE properties for sale within 1 mile of the property!  So, even if there were just a moderate amount of buyers looking for a standard sized home like this one (Even though  we know there are definitely more than a moderate amount of buyers out there) because our listing would be the only Active listing on the market,  it's safe to say that this home would still have multiple offers on it and most likely get over asking price!  All in all, a lack of inventory alone is reason for home values to remain at high levels.
For more info on this subject be sure to check out this blog post by Keeping Current Matters.  CLICK HERE
Keeping Current Matters is a great source for buyers and sellers to understand what all points of view are saying about the current real estate market and they also touch on market predictions.  Below is what they go over in their most recent post about the 2022 real estate market.
1.  2022 HOUSING MARKET PREDICTIONS
2. WILL HOME PRICES GO UP OR DOWN?
3. WHAT'S GOING TO HAPPEN WITH MORTGAGE RATES?
4.  WILL HOUSING INVENTORY RISE IN 2022
5.  WHAT DOES THIS MEAN FOR BUYERS AND SELLERS?
Call us today!   Ask for Maria, (562) 883-1003