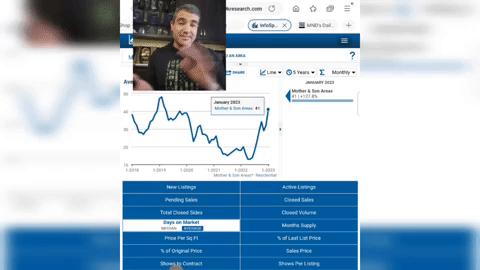 RISING INTEREST RATES (%) + 2 MONTH 2023 MARKET REVIEW
Interest rates are on the rise. This can have a significant impact on a number of industries, including real estate. Let's take a closer look at rising interest rates and their potential impact on the real estate market in Southern California, Including Downey and surrounding areas.
Interest Rates on the Rise
The Federal Reserve has signaled that it may begin to taper its bond-buying program, which could lead to higher interest rates. Additionally, inflation has been on the rise, which can also put upward pressure on interest rates.
Impact on the Southern California Real Estate Market
The Southern California real estate market has been on fire in recent months. According to a recent report from Redfin, the median home price in Los Angeles County reached a record high of $750,000 in January 2022. Additionally, homes are selling quickly, with the median time on market dropping to just 24 days.
However, rising interest rates could impact the real estate market in a number of ways. For example, higher interest rates can make it more expensive for buyers to finance a home purchase. This could lead to a cooling off of demand, which could in turn lead to lower prices.
Additionally, rising interest rates can impact the rental market. As it becomes more expensive to borrow money, some investors may choose to focus on other types of investments, such as stocks or bonds. This could lead to a reduction in the supply of rental properties, which could drive up rental prices.
It's worth noting that the impact of rising interest rates on the real estate market is not always straightforward. There are a number of factors that can influence how the market will respond. For example, if rising interest rates are accompanied by a strong economy and low unemployment, this could help to offset some of the negative impacts.
As interest rates continue to rise, it's important to keep an eye on how this will impact the real estate market in Southern California and beyond. While there are a number of potential implications, it's difficult to predict exactly how the market will respond. As always, it's important to stay informed and to work with knowledgeable professionals when buying or selling real estate.