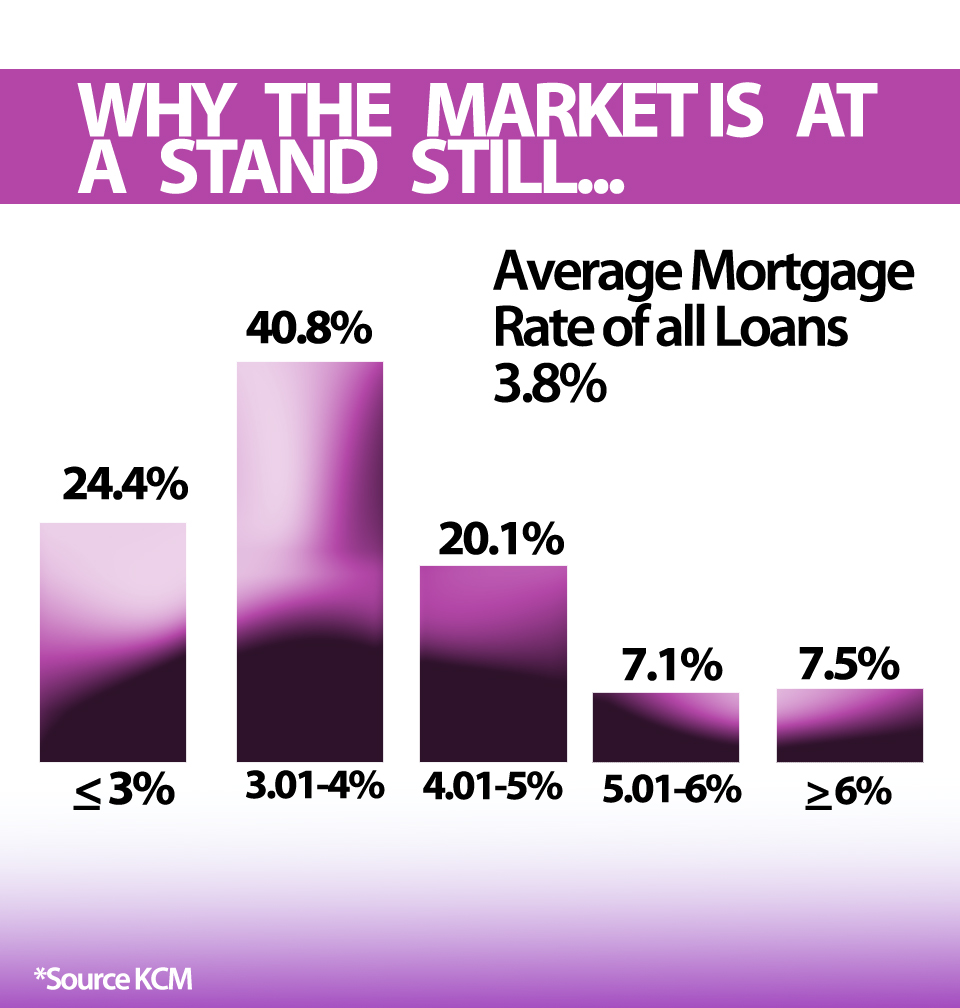 WHY THE REAL ESTATE MARKET SEEMS TO BE AT A STANDSTILL
Their has been very limited movement in the market.  A large reason for this is that homeowners are reluctant to make a move due to the low interest rate they currently have on their mortgage.  The graph above explains the current percentage of homeowners that have their mortgage rate anywhere between 2%-6+%.  Ask yourself this question.  If you had an interest rate on your home of 2.875% would you have a strong urge to move to another home where you will have an interest rate of 6%?  Chances are that you'd answer, "No" unless you strongly need to make a move.
The real estate market has been experiencing a slow-moving trend in recent months since rates have gone up and inflation seeming to be on the rise. One of the reasons is the shortage of homes on the market, which has made it difficult for prospective buyers to find suitable properties. Another factor contributing to this trend is the increase in interest rates.
The shortage of homes on the market is a result of several factors. Additionally, many homeowners are enjoying historically low mortgage rates and are hesitant to move, as they may face higher interest rates on a new mortgage.
The shortage of homes has created a highly competitive market, where there are more buyers than there are homes available for sale. This competition has driven up home prices, making it difficult for many buyers to afford the homes they want. This has led to a slowdown in the number of homes being sold, as buyers wait for prices to come down or for new inventory to become available.
Another factor contributing to the slow-moving market is the increase in interest rates. The Federal Reserve has been gradually increasing interest rates to control inflation, and this has made mortgages more expensive for buyers. Higher interest rates mean that buyers have to pay more in interest over the life of their mortgage, which can make homeownership less affordable.
As interest rates continue to rise, many potential buyers are finding it more difficult to qualify for a mortgage. This is especially true for first-time homebuyers, who may not have a large down payment or an established credit history.
In conclusion, the shortage of homes on the real estate market, combined with higher interest rates, has created a slow-moving market that is making it difficult for many buyers to purchase a home. While this may be frustrating for buyers, it is also an opportunity for sellers, who may be able to command higher prices for their homes. As the market continues to evolve, it will be important for buyers to remain patient and work closely with their real estate agent to find the right home at the right price.